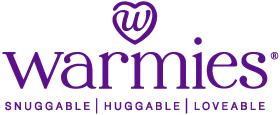 Intelex USA, LLC.
105 Prairie Lake Road
East Dundee, IL 60118
USA
 hello@warmies.com
From our engaging designs, luxurious fabrics, lavender farms in Provence, affordable pricing, state of the art manufacturing facilities, impeccable safety record and charitable endeavors, everything we do is with your comfort in mind.
For over 25 years we have been true to this belief and feel blessed for the millions of people we have touched. From our company's inception, selling a fully microwavable, French lavender and organic filled heat pack, to today, with hundreds of fully heatable stuffed animals and wellness gifts, Warmies sets the standard for comfort and wellness. It's no secret that Warmies are loved around the world. We invite you to experience the comfort of Warmies and become part of our big comfy family !
Stuffed Animals
Warmies Wellness
Bundles